March, 2021

For more information on testing, consumer safety, Michigan regulations, and more, check out our conversation with AOAC International's Patrick Bird here.
As you probably already know, we've all smoked moldy weed. Almost all weed contains mold spores. Many of us may have had experiences where we were disappointed because too much mold ruined the quality of our weed.
I'm no medical doctor, but it is evident to all in the cannabis industry that mold is a significant health and safety issue for cannabis consumers, like those with mold allergies and the immunocompromised. So, for those consumers who (1) demand safe levels of mold or (2) appreciate high-quality cannabis, this post is for you. The more consumers understand about testing for mold, the more power they will have to make informed decisions when purchasing cannabis.
In the newly regulated markets, there are already many accurate tests used to measure mold in cannabis. However, in some cases regulatory agencies have had to step in to require that labs properly validate the testing to demonstrate that the test meets the necessary standards to ensure the quality of cannabis and safety of consumers. This blog post is intended to help identify the difference between validated methods that can be relied on and developmental methods that may hold great promise for the future.
A cannabis mold-testing controversy is currently being fought.
There is a controversy in the industry about the best procedures to test cannabis for mold. In states across the U.S., there is a wide disparity in the results provided by different technologies used for cannabis mold testing.
The level of mold is an important factor because most cannabis, like most agricultural products, includes some mold. High levels of mold can result in the production of mycotoxins, a known human toxin and carcinogen. This test is the most frequent test for which cannabis fails safety compliance testing.
Different tests for cannabis mold contamination can produce vastly different results.
At the same time, we see the growth of the regulated cannabis industry exploding. For example, in Michigan the industry grew by almost 500% from 2019-2020 to around $1 billion in retail sales. This extraordinary growth puts pressure on fledgling cannabis industry regulations and regulators to set and maintain the highest standards for quality and safety.
Independent cannabis-safety-testing labs (Labs) are licensed by state agencies to assure the safety/purity of cannabis using rigorous testing methodologies that determine potency and assure that state-set levels are not exceeded for pesticides, heavy metals, microbials like mold and other impurities.
The science applied to test cannabis purity is relatively new. There are no federal standards, and established scientific testing standards are few and often inadequately defined. In the absence of standardized testing methods, states often allow multiple testing methods and leave it up to the Labs to validate the tests using accepted validation standards that have been set for other agricultural products by organizations that create scientific testing standards, such as AOAC INTERNATIONAL and U.S. Pharmacopeia (USP).
Because of this lack of standardized methods for measuring the amount of mold in cannabis and inconsistencies in how regulators approve methods, some labs have used mold tests that have not been rigorously or independently validated, allowing cannabis that does not meet state-required limits for mold to reach consumers.
Not all mold tests meet safety standards.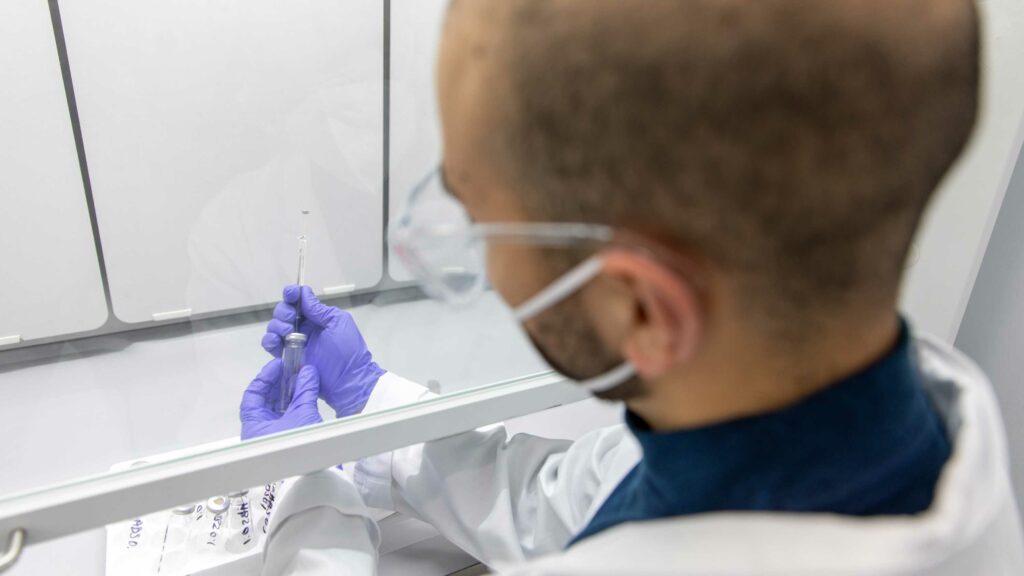 There are two major scientific technologies used for cannabis mold testing:
Plating-based technologies, which are used to measure the number of growing mold organisms in a sample.
DNA-based or PCR-based (polymerase chain reaction) technologies, which are used to identify the presence of mold DNA in a sample.
From its inception, Steadfast has led the cannabis industry in developing and validating tests that ensure cannabis quality. In 2014 Steadfast partnered with Neogen, a multibillion-dollar international leader in food safety testing, to develop the first USP-validated method for measuring mold in cannabis.
At the present time, this represents the only publicly available validation data by a recognized standards-setting organization for accurately quantifying mold levels in cannabis and cannabis-infused products.
Things are about to change.
In 2020, AOAC's Cannabis Analytical Science Program (CASP) identified mold testing in the cannabis industry as requiring emergency assistance and initiated its Emergency Response Validation program through the AOAC Research Institute to conduct a study on the mold measuring methods used across the industry.
AOAC partnered with Steadfast and several other cannabis testing labs to conduct this emergency test validation to certify accurate methods. Many of the brand-name providers of methods for measuring mold in cannabis participated in the study.
These AOAC-certified methods are expected to be announced in spring 2021. For the first time ever in the cannabis industry, Labs will have AOAC-certified options to choose from for mold testing.
Steadfast continues to lead the effort to validate PCR-based methods for quantifying mold.
Steadfast strongly believes in the use of scientific principles to advance the fields of medical and analytical testing. PCR is the best choice for many qualitative tests in which it is required to accurately detect the presence of pathogens. As a matter of fact, Steadfast uses PCR for determining whether pathogenic organisms such as Aspergillus, E. coli and Salmonella are present or absent in cannabis samples.
One of the reasons that Steadfast supports the use of PCR-based technologies for qualitative tests is their short runtime and high-throughput capability; it being understood that runtime and throughput cannot be substituted for accuracy and reproducibility.
Simply determining whether mold is present is not sufficient.
The amount of mold present must be accurately measured to know whether state limits designed to protect the end user are met. Steadfast has worked extensively to validate a mold-testing method called qPCR, or quantitative PCR. Steadfast also is developing a method called end-point PCR (epPCR) for quantifying the amount of mold in cannabis. Steadfast has both qPCR and epPCR systems in-house and has ongoing validation programs for each. To date, no PCR-based technology has been validated, either by Labs or by a recognized standards-setting agency such as the AOAC for use in quantifying the amount of mold in any product in any industry. Despite this fact, a large amount of cannabis on store shelves has been tested for mold by qPCR.
Steadfast's internal validation data demonstrates that currently available qPCR test kits fail to provide an accurate method to measure mold levels in cannabis.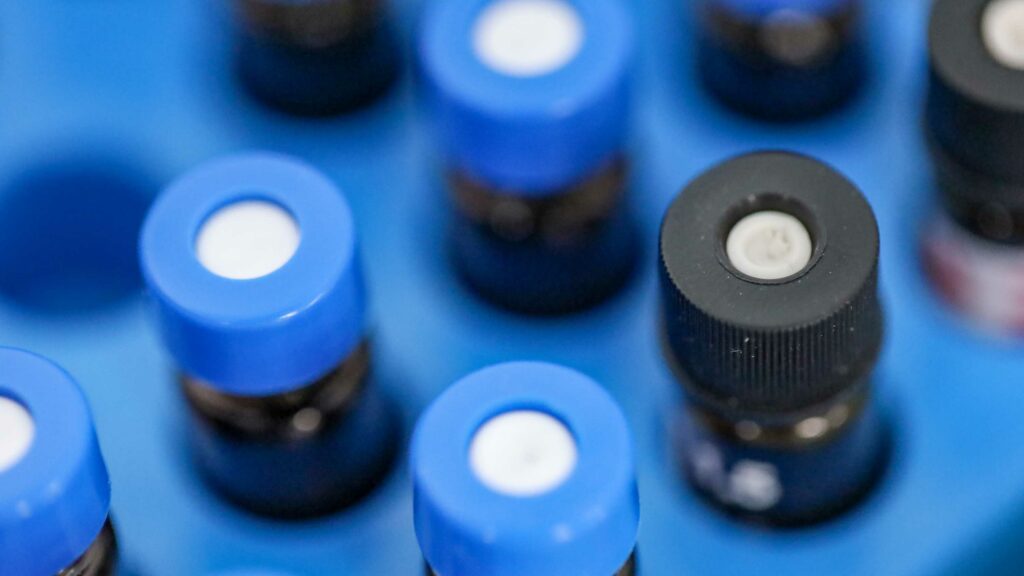 The difficulty in providing accurate measurements is because qPCR methods measure something completely different from what plating methods measure. More specifically, while plating methods measure the amount of living mold organisms present in the sample, qPCR measures DNA from both living mold organisms as well as DNA that remains from dead mold organisms.
From a safety standpoint, living organisms represent a clear safety concern, while most dead organisms do not. A measure of total DNA is not relevant to consumer safety because cannabis is an agricultural product in which both living and dead mold organisms are present.
Further complicating the situation is that it is very difficult to correlate the amount of mold DNA present to the number of colony-forming units of mold. There can be a wide range in the amount of DNA present per colony forming unit for the over 5 million different fungal species that are known.
To accurately test for consumer safety, it is not sufficient that qPCR measures the total DNA present in the sample, it must measure the amount of DNA that comes from living mold organisms.
Nonetheless, some Labs have devised a flawed solution to address this issue. These Labs introduce an additive to the qPCR sample preparation that is advertised to specifically remove dead mold DNA. However, Steadfast's data unambiguously show that this additive also removes DNA from living mold organisms, thereby significantly reducing the total amount of mold that can be detected.
In fact, Steadfast's studies show that the use of this additive (in side-by-side testing of qPCR and our USP-validated method in commercially available cannabis) demonstrated a very high rate of false negatives when using qPCR. In other words, a sample could have dangerously high levels of mold and still pass this qPCR test in samples tested using the additive.
The additive removes the mold DNA that the tests are intended to detect, allowing contaminated cannabis to pass Lab tests and end up for purchase and use by unsuspecting consumers. The use of the additive is likely the cause of the wide disparity in the results obtained by Labs using this qPCR test as compared to Labs that use more rigorous plating-based methods.
At Steadfast, we are doing everything within our power to enable the cannabis industry to be the first to develop a valid qPCR test method for quantifying mold.
Once developed and scientifically validated for cannabis, other industries will follow to approve qPCR for quantifying mold in food, pharmaceuticals and other agricultural products. Steadfast looks forward to the results of the AOAC Emergency Response Validation to learn which methods have been approved, and it will be a leader in adopting an AOAC-certified qPCR method as soon as one is demonstrated.
What has been going on in Michigan?
Michigan regulators recently banned the sole use of qPCR for mold testing. Steadfast and other industry leaders were not surprised by this action for the following reasons:
What should a Lab do when its favorite mold-testing method (such as qPCR) is banned by state regulatory agencies?
The answer is simple. A Lab's priority should be to protect the health and safety of cannabis consumers. Steadfast submits that each Lab has an ethical and legal obligation to follow the science and the data in its use of testing methods that ensure consumer health and safety.
If a Lab continues to use a testing method after it has been demonstrated to not be accurate, that Lab shows that it unambiguously values financial gain more than the health of the consuming public.
Inaccurate mold testing places cannabis consumers at risk and producers risk irreparable damage to their brands.
Michigan's growers, processors and provisioning centers are committed to providing safe cannabis products. They care about the health and safety of the cannabis-consuming public and understand their brand reputations rely on providing safe products.
These businesses rely on state regulators to provide effective oversight of Labs to assure that data reported by a Lab can be relied upon so that consumers are protected. Simply stated, the growers, processors and provisioning centers should be able to rely on the results of Lab testing, but confidence in such results is only as good as the accuracy of the testing methods employed by the Labs.
Protect yourself from moldy weed.
The fact that invalid tests continue to be used clearly demonstrates that consumers must remain vigilant and knowledgeable about the quality and purity of the cannabis they purchase.
As a consumer, you can take the following measures to protect your health and safety:
Trust your senses. Ask to see the actual product you are purchasing instead of the display sample. Moldy cannabis is often not apparent to the naked eye. If there is a musty, mildewy or otherwise unpleasant smell, it may be moldy and should not be consumed.
Ask if the Lab used validated methods for mold testing that are approved by a recognized standards-setting organization such as AOAC or USP.
Ask to see the Certificates of Analysis to view the mold results for the products you are interested in and research the methodology used by the testing lab.
Buy Steadfast-tested cannabis. Visit the Steadfast Safe Map to view and locate available Steadfast-tested products.
If you think you purchased moldy weed but are not sure, have it tested by Steadfast if you have a caregiver or patient license.
If you find that you purchased moldy weed, it is important to alert the licensed provisioning center from where it was purchased and to immediately file a report with Michigan's Marijuana Regulatory Agency at michigan.gov/mraonline or send an email to MRA-Enforcement@michigan.gov.